PennyStocksPAYD SmallCap Microcap Swing Trading
I am $40,000 Short Of $100,000 This Month - A $25,300 Day For Me $FNMA Federal Natl Mtg Assn $BTCS Bitcoin Shop Inc
Tuesday, 17 February 2015 10:40
I am $40,000 short of $100,000 goal for this month...

You can check my progress here in my trading log

We baaaanked on $FNMA Federal Natl Mtg Assn - +$14,100 Profit for me in $FNMA
And banked on $BTCS Bitcoin Shop Inc +$11,300 Profit for me in $BTCS

Check out some subscriber profits this is insane guys...

I am going to achieve my goal this month I have set out to do...

This is month it is insane..

Congrats to everybody that watched my blog posts and profited from both of these plays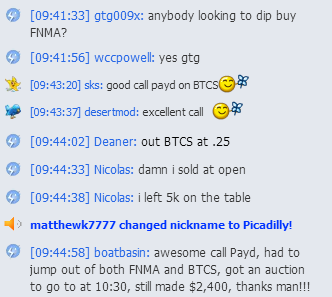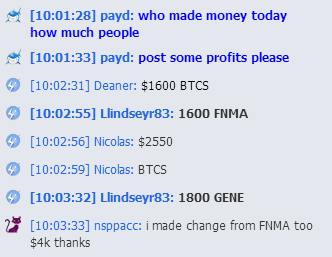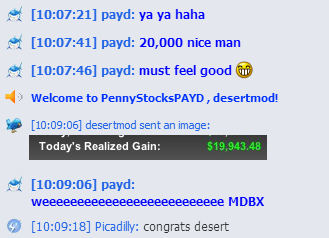 Plus subscriber desertmod is up $19,943 today in $FNMA and $BTCS

What are you waiting for?

Subscribe today


Have No Fear - Breakouts Are Here - FNMA Federal National Morgage Otc BTCS Bitcoin Shop Inc ( Next AEMD )
Saturday, 14 February 2015 08:27


Possible mid .20s coming for next week... This chart is identical to AEMD from below before it reached .70 cents or so




Check my video below







Also watch FNMA Federal National Mortgage Otc this one just broke 2.50-2.60s range ...

It is quite possible we get $3 or more next week

Disclosure: I am long FNMA Federal National Morgage and I am also long BTCS Bitcoin Shop Inc.

I have alerted and bought both of the stocks above to all my subscribers

Let's Play - Up $31,400 In 2 Weeks But I Am Planning To Make $100,000 And More This Month - Ready? Set ? PLAY!
Friday, 13 February 2015 14:21


Good week so far I am up $31,400 for this month in trading.

You can see my trading log here for this weeek.


Soooo much money is in the market this month this is getting nuts

See my youtube videos on all my trades I posted in my trading log.


Also see what I am long over the weekend here


Enjoy Your Weekend Everybody.

It has been crazy and it will get even more crazy

Become a subscriber and don't miss out on these movers already sheshhh

Laters


Below are all my videos education and so forth



MDBX Medbox Inc +$17,800 in ONE TRADE Explained Penny Stocks Trading 2-9-15
Monday, 09 February 2015 12:35
You know it is that trade that makes a difference between a good trader and THE BEST TRADER, it is that trade that makes the difference between having a vacation for one week a year, to taking off 6 months from the year.

It is that trade that separates the men from the boys in the stock market.

Well here I present to you my trading in Medbox MDBX where I took home $17,800 in just one day, and how you as a subscriber can do the same.




They keep telling me that people with little money can't get rich....
They keep telling me that people with less than $10,000 in their trading account will never make it...
They keep telling me lies that this guy can do it, that guy can do it but nobody really shows me step by step....
Everybody lies, everybody has you purchase a subscription for nothing...
Everybody misleads you for their own interest...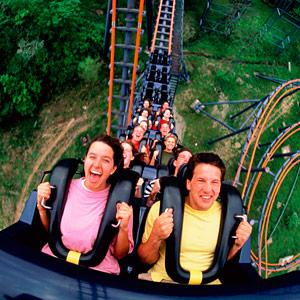 But I keep doing it...
Keep doing it...
Taking home 20%-30% swings...
Over and over...
And nobody has the balls or guts to do what I do...

Because frankly.... Its risky !! Its stressing... Its Hard !! Its fuckin hard !!
But I did it... I am going to keep doing it and this is how I banked $17,800 in MDBX Medbox and you could of done just the same....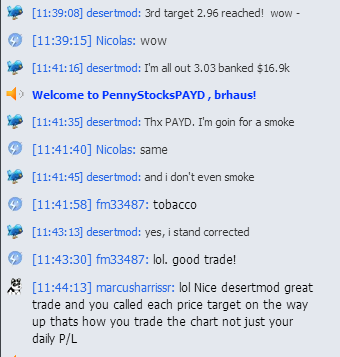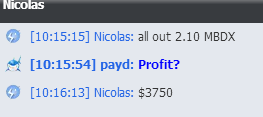 Enough said... Cya at $1,000,000 Dollars

Yep.. One Million maybe two


First Week Of February Is GREEN - Up $7,050
Sunday, 08 February 2015 16:14


Good week starting -

AMLH is now 0.361 from my .238 buy point - I regret not holding longer but profit is profit

Everything else was spot on - considering the trade !

It is good to be in the green !!

I will make more videos next on these trades
Page 4 of 9